Apple's Mac segment will continue to see higher growth rates driven by tailwinds like the M1 chip and the work from home trend acceleration, says Gene Munster at Loup Ventures.
In a new research note, Loup Ventures analyst and partner Gene Munster notes that Mac revenue growth was essentially flat in the five years before the coronavirus pandemic. When the global health crisis hit, Mac growth stepped up from an average of 1% annually to more than 20%.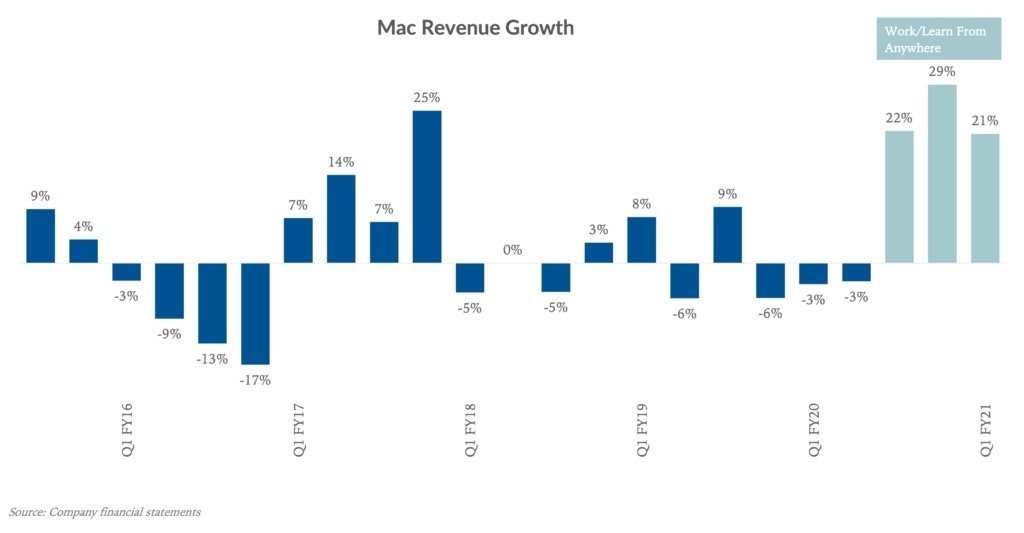 Credit: Loup Ventures
Munster believes that the growth will slow down and see a decline from those highs. However, the analyst believes Apple's Mac segment will continue to be a source of upside for the company. He expects Mac growth of 5% in 2022, higher than Wall Street consensus of 2%. In 2023, Munster also forecasts 5% annual growth, compared to the consensus of -4%.
"The reason for our optimism: a combination of work and learn from anywhere and a multi-year refresh cycle around the staged rollout of Apple's new M1 chip across the Mac family," Munster writes.
Although vaccines are rolling out and some companies are already anticipating a return to in-person work, Munster believes the digital transformation that kicked in 2020 is still in its early stages. Currently, Loup Ventures estimates that about 80% of knowledge workers are working from home. That's down from 90% six months prior. However, before the pandemic, that number was about 6%. Going forward, Munster believes that number will settle around 25%.
To outfit home offices, the analyst believes that many workers will turn to the Mac for its increased reliability, malware resistance, and the fact that it requires less hardware support. While the Mac only has about 8% of the market share currently, he believes that will inch higher in the years to come.
On remote learning, Munster says all schools will return to in-person learning. But he believes there'll be a gentle tailwind from schools being better prepared and more willing to shift to remote education in the event of future public health situations, such as weather-related disasters and flu outbreaks.
The M1 chip, which Munster believes is a "once-in-a-decade" hardware refresh, will also drive Mac growth into the future. He believes M1 will give the Mac segment a measurable boost for the next two to three years, largely due to its speed and performance improvements.
"Putting it together, we believe the combination of the ongoing digital transformation and refreshed lineup are durable short-term and long-term tailwinds, respectively, that can lead to sustained low to mid-single-digit Mac growth over the next few years, which are growth rates that have eluded this segment for the better part of a decade," Munster writes.
The analyst expects Mac revenue growth of 7% in 2021, about the same as Wall Street consensus. He's also more optimistic about growth in both 2022 and 2023, with forecasts of 5% annual growth for both of those years.